One of the largest parts of interior design is making sure that every part of a room fits in with another part. From the colour of the walls and the wall décor to making sure that the furniture matches the colour of the floor, there is quite a bit to think about.
One area that can make a huge impact on the appearance of your room is how your furniture matches up with the rest of your flooring. Of course, this includes the colour of both the floor and the furniture, but it also includes any patterns that either one may have, as well as the shape and size. Thankfully, there are a few tips to matching the furniture to the floor.
Making Sure Everything Looks Good Together
One of the most basic rules of matching your furniture to your hardwood & solid timber flooring in Melbourne is deciding to mix and match contrasting colours. If you have a deep, dark brown as the colour of your floor, then you will want to aim for an off-crème colour for your furniture. Likewise, a light, birch floor will match wonderfully with darker-coloured furniture, usually deep grey hues. Across all of your rooms, the furniture should match. If all the floors are dark, then all of your furniture should be light. If you want to take things a step further, you can use certain accents to contrast things further, such as pillows and blankets.
While most people opt for different materials in their furniture, you can also go for a wood-on-wood look if you really enjoy that rustic appearance. You should keep a few things in mind though. First, any furniture that has a wooden frame needs to complement the colour of the floor. You can also use contrast here. You could have light wooden furniture with a deep brown flooring and vice versa.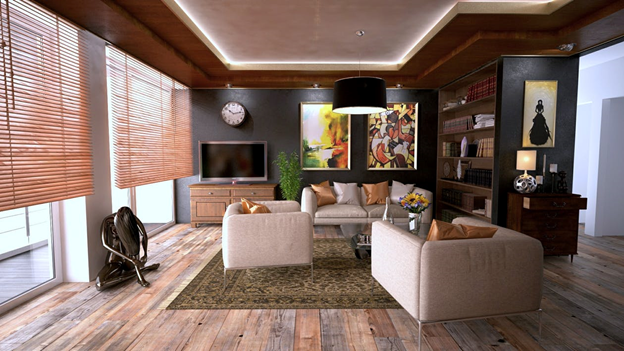 You should also aim for complementary colours, if you can. This generally works best with a more neutral colour palette. An example of this would be having a light wooden floor, and then off-white or light grey furniture. You could have a few pieces in the room that have bright colours, such as a potted plant or pillows, but a mostly-neutral style will look best in this case.
Why Is This Important?
The appearance of a room has been shown to influence mood more than people might realise. When colours and colour combinations are aesthetically pleasing, it can help relax the mind, which is something that many people can appreciate. When colours do not match or mesh well together, it can negatively affect your mood, which is something that nobody needs to deal with in their own home.
Making sure that your furniture matches the floor is one of the best things you can do for your interior design.