One of the things that the Japanese are good is at having tranquillity in almost every aspect of their lives. You see this in not just the photos and the monuments that show off their history. You also see them in their homes. When you see a regular Japanese home, you would immediately think about how calm and serene the entire place is. And you wouldn't be wrong.
They have mastered the art of Zen.
If you want to spice things up in your own home, then why not add a Japanese twist to it?
Bring nature inside
Let's start off simple and subtle. For those that don't want it to be so obvious that they're copying some Japanese-inspired stuff, you can start with adding plants inside the house. For a prettier and more serene look, go for bonsai, bamboo and some orchids. Or at least plants that are more common in Japan itself. The point is to make it green, simple and just simply green.
Sliding doors and tatami floors
The sliding doors, or Shojis, are built the way they are because of when Japanese homes used to be so small so they would need every inch of space they can get. By using sliding doors instead of the traditional Western ones, you would have more space in your home. This is basically a practical choice, plus if you get the glass ones instead of the paper ones, you would get more light in your home, thus making everything brighter inside. A bright home that gets its light naturally makes for a pleasing home that incorporates Zen too.
Tatami floors are basically just carpet except they are made of wood and don't mess up your air by nesting dust particles into them. Japanese homes, at least the traditional ones, have these in their reading rooms and such. If you and your family like to sit down on the floor, tatami floors are perfect for you.
Spa-like bathroom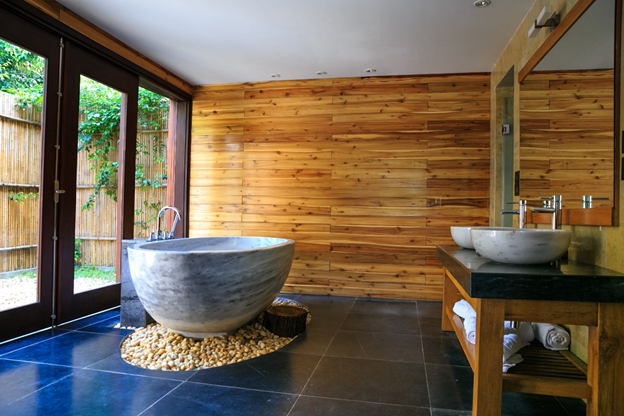 We say spa-like because Japanese people are known for their Onsen. They're spas, basically, where people would bathe and relax in hot spa water surrounded by smooth rock while enjoying nature, if they are provided with beautiful views. Putting something close to that in your bathroom is just you giving yourself a treat at this point so don't hold back.
Everything is wood (mostly bamboo wood)
From your doors to your walls. From the ceiling to your floors. From the beams that hold up the entire house, right down to the table in which you eat your dinners on, all is made of wood.
They love the minimalist look and basically live in it their entire lives. The traditional Japanese houses, those really big ones that have probably been around for ages, are made up of wood and occasionally some metal or stone to keep everything up. Everything is low ground too, which really does the job of making the entire place look larger. Choosing this for your Japanese twist interior design layout will be worth it.