If you're someone who loves to read, there are times you want to take the activity outdoors. You understand the joy of simply being outside doing the thing you like, which is reading.
Reading in the outdoors is a great way to kill time and enjoy the weather. But having a reading nook outdoors also requires the right types of furniture that can help make the experience more enjoyable. Outdoor reading is very relaxing because you are closer to nature, enjoying the scenery around you. This means that the outdoor furniture you need for your reading corner must be durable, comfortable, and easy to clean.
Most people who are planning to create a cozy reading corner need to determine what they will use the furniture for. If you are thinking of how to decorate your backyard for reading, you need to consider the purpose that you will be using it for. Are you going to also use it for a nice evening with a dear one or maybe you will be using it as a place to entertain guests for special occasions? Do you want to create an outdoor setting where you and your kids can play games or puzzles? Once you know the purpose you want for your outdoor furniture set, you will be able to better determine the types of materials that you need to purchase.
Plastic Chairs
If you are creating a cozy reading nook, then you don't really need to spend a lot of money on the furniture. Cheap plastic chairs are a great choice for outdoor reading nooks. They are light weight and very comfortable to sit on. They are also very easy to clean. These chairs are perfect for children to use. The lightweight material is preferred for outdoor seating as it's easy to transfer, comes in a lot of fun contemporary designs, and can withstand the rain and the sun.
Wooden Chairs & Table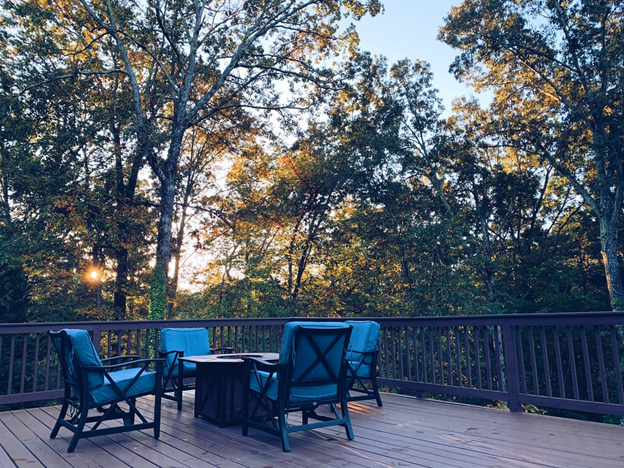 If you want to create a more formal outdoor reading corner then you might want to consider adding wooden chairs and a glass top table or a simple wooden table. It creates a more formal-looking reading area, especially if you want an antique look in your outdoor reading nook.
Wicker Furniture
Wicker furniture remains to be a firm favourite and is perfect for either casual or formal occasions, especially the hanging egg chair, which is perfect for both relaxation and reading. You can easily use wicker or rattan furniture for a more casual backyard setting or for a more formal one. You will have to shop around to find the right type for your needs, but as wicker has been popular choice for outdoor living space, you will be able to have lots of options to choose from.
Wrought Iron
Another idea for a more formal outdoor reading nook is to use wrought iron furniture. Wrought iron is very beautiful and adds a touch of elegance to any backyard setting. Wrought iron furniture comes in many different styles including casual and formal.
When you create your own outdoor reading corner, you will have your own place to read. You will have the convenience of being able to stretch out and read a book without having to deal with distractions such as the television. With this type of cozy nook, you will be able to enjoy a great book series.